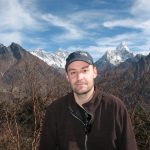 Robert Bacskay
EBC
Visited December 2008
I went on a three weeks long trek with Christina & Saran who took us over Renjo La Pass, Gokyo and into the Everest 'Highway' to the EBC and Khala Pathar. An absolutely fantastic trek, organized by people who really love this country and it's mountains. They know all the teahouse owners, no matter how "off the beaten track" the teahouses are located, as well as all the mountains in the region. When traveling with such people, you learn a lot about the culture, customs and the mountains. This all together made sure that Nepal will always have a special place in my heart. Everything was also very well organized with good food, accommodation and high security. I highly recommend Hi On Life!
Robert Bacskay, Stockholm, Sweden
Everest Circuit, December 2008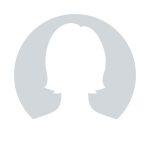 Tiina Åkesson
EBC
Visited October 2007
Thanks to Saran & Hi On Life crew for a great trek!
Our trek from Lukla to EBC was a great experience and gave me a lot of good memories. Hard work and rewarding views makes it to a great vacation. You had a good way of solving upcoming situations along the trek so it felt safe to travel with you and your crew.
Good luck with your coming treks and climbing adventures.
I am looking forward to join your treks again.
Tiina Åkesson, Landskrona, Sweden
Everest BC, 2007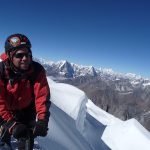 Paul Swettenham
Summit Island Peak
Visited February 2008
Hi team mates and friends! What an amazing expedition to summit Island Peak! Thanks to our guide Saran, team leader Christina and climbing buddies Ola, Freddie and Per (my roomy!!!). Also to Sarans fantastic team – Nima, Nima (lead climbing sherpa), Hari, Om and the rest of the boys!!! It was well organised and most of all great fun. Rock on!
Paul Swettenham, New Zealand.
Island Peak Expedition, 2008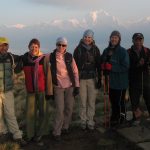 Jill Wills
Yoga Instructor
Visited April 2010
On behalf of myself and the yoga girls, we would like to thank Saran and his team for the wonderful adventure they took us on. The sites for yoga were perfect with a fantastic breath taking view each day. The trek was a walking meditation in itself. We really tapped into the local village life on this journey. We called Saran " Saran Irwin" as he has a great love for all creatures great and small. His knowledge was endless, his laughter contagious and his consideration and compassion for others overwhelming. Saran's team took great care of us and our belongings. They sang to us, playing volleyball, oversaw our food being cooked to make sure it was safe, brought us a herbal tea first thing to our room in the morning before yoga and shared many jokes with each other. They made us feel like a family. We are already planning the next trek with his company "Hi On Life".
Jill Wills, Yoga instructor
Yoga Trek, April 2010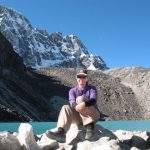 Karyn Wilson
Renjola' Pass Trek
Visited November 2008
I went on a 16 day Renjola' Pass Trek with Saran and Christina, and I can honestly say it was the best thing I've ever done. The scenery was absolutely breathtaking. The people were amazing. Saran and his Hi On Life team took fantastic care of us and encouraged us all the way. You felt like part of a family – not just another number as on some of the bigger companies I've done trips with. We went off the beaten track and did some camping which was awesome – good to get off the "trekking highway" and the food Nima and the boys cooked in camp was unbelievable. I just didn't want to leave!!! Now looking at the photos – I just have to work at getting back there.
Karyn Wilson (alias K2), Australia
Renjo La, Gokyo Lakes and Ama Dablam BC, Nov 2008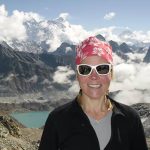 Maria Falk, Stockholm, Sweden
Everest Circuit
Visited October 2015
Everest Circuit in 2015, a trip I chose based Hi On Life's description; "Our most challenging hike, but in return abundantly rewarding." I can say that I had high expectations for the trip. To summarise my score: Hi On Life delivered way beyond my expectations! I came down from the mountain with brand new experiences and experiences I could not even had imagined. I was HIGH ON LIFE!!!
Everest Circuit
October, 2015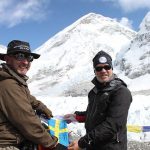 Mats Jirander, & Åke Stråberg
Everest Base Camp Trek
Visited October 2011
Dear Christina and Saran!
Having now returned to Sweden and slowly started to digest the fantastic adventures we have experienced in the Himalayas we would like to thank you and your team for some unforgettable days together! For an excellently organised trekking tour and for your friendly and yet professional way of guiding us to such achievements! We would recommend Hi On Life to anyone who asked for our opinion!
Your sincere friends,
Mats Jirander, & Åke Stråberg, Hovås, Sweden
Everest Base Camp Trek, October 2011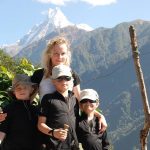 Anna Stjärne
Annapurna Foothills
Visited October 2013
Can you bring your children on a trek in Nepal?
Yes, with Hi On Life there was no problem!
We experienced the beautiful Annapurna mountain range, villages, rivers, suspension-bridges, rice fields during harvest and above all, friendly people! The children were welcomed with open arms.
All of the team was so dedicated, responsive and fun to hang out with. Jarl rented horse for 5 days, it worked great!
Proud we stood on the top of Poon Hill 3210 meters above sea level. Tired and happy we played cards with the team in the evenings. Lovely views of seeing the back of the children, hand in hand with our Sherpas, counting stony steps in Nepali language. To show the kids what a trek means, in this environment, with this people was simply amazing!
Thank you for a very well organised trip!
Anna, Folke 11 years, Ivar 9 years and Jarl 7 years
Family Trek Annapurna Foothills
October 2013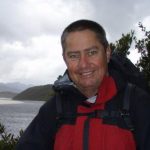 Paul Makepeace
Everest Circuit
Visited April 2007
What can I say except Saran and his Hi On Life teams are the best. I have walked in many places and mostly organised my own thing. I was originally a little sceptical about an organised walk, but after having arranged for Hi On Life Adventures and Saran guide us to Gokyo Lakes and Everest Base Camp, I understand that I could not have done it any other way and more importantly would not want to have done it any other way. Their professionalism and friendship was beyond reproach and everything they did just added to our experience ensuring we maximised our enjoyment of the Himalayas. To me they are friends, not guides and I could not recommend anyone more highly.
Everest Circuit, April/May 2007